This is really good, so don't forget!
You have until August 20th to comment the post below this one and enter a drawing for
Kate Crane's new Art Journaling DVDs
. Truly, one of my new most favorite sources of inspiration! Read below to find out more and sneak a peek at Kate's work using Tumble Fish Studio images.
This is very good!
The talented Nancy Baumiller of Crowabout Studio B and I collaborated on a brand new funky mail art kit, available in both jpg collage sheets and a digital version with png images. AND, we both did coordinating Add On kits as well. It's on sale this week! Pix below are all linked to the shoppe.
You're Invited (funky mail art) Kit
You're Invited (funky mail art) printable jpg kit
TFS Add On for You're Invited
Crowabout Studio B's You're Invited Add On Mini
These are beyond good!
Have to share just a few of the pieces my Creative Team made using the kits above. I wanted to share some that wouldn't fit in the shoppe samples sections.
from Tracey aka glitterbug (linked to her blog)
from Amy aka paperandgluestix (linked to her blog)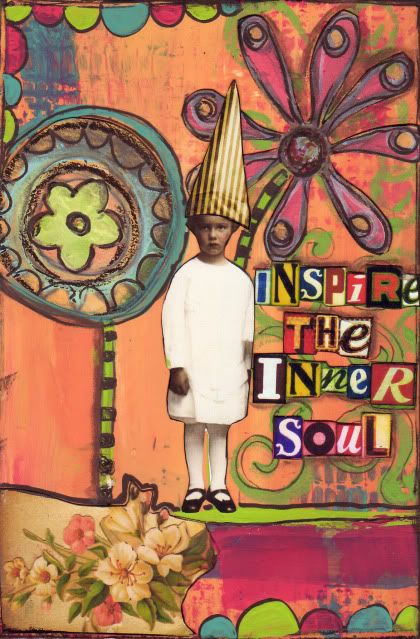 from Jayne aka peppapig (linked to her blog)
from Maggiebean (linked to her flickr)
And here's an exclusive secret heads up . . . .
Watch for information coming soon about a funky mail art swap at DeviantScrap.com. It will be in the September issue of The Altered Muse!
And this is good and bad . . .
Good because you still have time, bad because today is the last day to sign up for the August ATC swap at DeviantScrap.com. You can sign up for either a digi swap or snail mail swap. Work is due on the 30th and the theme is "The Inner Me". You can find out more
here
.
And this is good too!
I am so excited to be a part of
Seth Apter's The Pulse
on his
The Altered Page
blog. Here is Seth's description of his ongoing project . . .
"Welcome to the 5th edition of The Pulse -- The State of the Art -- a survey in words and pictures of the online artist community. The Pulse is a collaborative project that aims to introduce you to new artists, help you get to know familiar faces even more, and allow you access into the creative hearts and minds of a very talented crew of individuals. More than 130 artists have answered a series of questions which make up The Pulse. Their responses will be presented in a series of online posts which will run every Sunday.
"